In the Dark Moon Healing Circle you will have the opportunity to connect with Yourself and the Moon each month.


> Connect with the Divine



> Restore your Sacred Connection and remember you BELONG and are part of the whole

> Learn to feel energy

> Remember your Wisdom



> See how the Universe responds to the Magick you create



> Awaken your inner witch, your shaman, your healer, your

inner

priestess


REMEMBER YOUR TRUTH

You have been hiding long enough.

In the nights where no light shines than that of yourself, you are invited to TRULY see and embrace your true essence.

Every month you will honour your journey.
And are invited to fully embrace your feelings...
Learn to work and recognise your gifts...
Dare to believe and ask for your wishes...
And understand the next step to take.

The Magick you'll start experiencing will be indescribable. Synchronicity, destined meanings, help from strangers and so much more beauty will open up once you remember the world IS Magick.

The Moon is the portal that can bring you the answers to all your questions.

Working with the Dark Moon Phase will highlight the Secrets you have been wanting to know.

They will help you transform and receive what you asked for.

The Silver Moon Subscription is a 3-Month Subscription ($99 for 3 Months) that includes extra workshops like Moon Energy (worth $49) and Money Magick (worth $197). Each Month more workshops are added.


Upcoming Circle:

This month you'll be working with the Point of RELEASE in the Dark Moon Healing Circle.

And it's all about removing MONEY KARMA.

Everyone that joins will remove at least one BLOCKAGE (either emotional, spiritual or family karma related) to receiving money.

As an extra you'll also get access to the workshop that removes VOWS and PROMISES.


**what is the remove VOWS and PROMISES workshop?**

> A promise made can keep you stuck

So often it's a promise made or even a past life vow that can keep us stuck. I see them often come up in Akashic Records healing. Think about suffering and then think of a vow of martyrdom. Think of phrases like: I will love you forever or "I will always wait for you". Ever said such a thing? If you did then you've created an energetic tie.


> Often you don't even know it's there.

+ In love.
+ With making money.
+ In careers.
+ And in general: to simply have more ease

And you just can't to seem to move forward.

What if you could remember that there was actually a promise made and then we would clear that promise?

That's what you learn to do in this release past vows webinar.

Here's what you may expect:

+ Understanding the power of vows
+ Aha's about areas keeping you stuck.
+ A clearing that helps you UNBLOCK
+ And how to recall and DELETE promises made

(Including a VOW OF POVERTY)
Would you like to experience deep healing energy and release Money Karma?
>>>YES! I'm in<<<

The Dark Moon Healing Circle is a monthly membership. We meet up once a month online to honour our journey.

> You shed layers that are no longer needed.
> You learn to hear your own wisdom
> And learn to call in the new in your life

Magick, the Goddess, Divination, Mystery and the Moon Phases are part of the path of Moon.


What to expect?

>> You will work with Themes in the Sky.

>> You'll get ancient Moon Knowledge and learn how to examine what works for you.

>> You open portals of the Sacred and connect with the Divine.

>> You will start to learn about YOUR specific path

>> You'll have the ability to connect with Ancient Universal Truths and energies.

3 MONTHS MOON MEMBER BONUSES



As a Monthly Moon Member you will receive access to:


> Extra Moon and Astrology Knowledge
> Moon Library
> Moon Questions ( there will be a new video on them each month!)
> Journal sheets
> Magick Recipes
> $50 discount on 2-hour Akashic Healing Session

...and so much more.
Testimonials: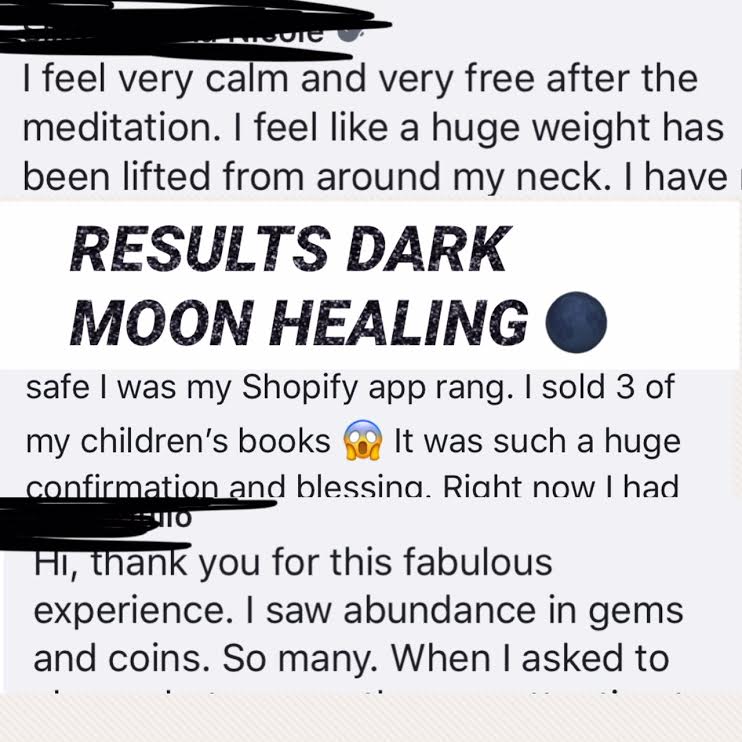 New to me?
I am a spiritual life coach, teacher and healer and I call myself a Dark Moon Healer, because I walked the full path of transformation represented by each cycle of the Moon. I hosted the first circle in my twenties and delighted to host it online for you!

My intention with this Moon Healing Circle and Academy is that every healing will be beneficial and will assist you on the level that you are ready for.