In the Dark Moon Healing Circle you will have the opportunity to connect with Yourself and the Moon each month.


> Connect with the Divine



> Restore your Sacred Connection and remember you BELONG and are part of the whole

> Learn to feel energy

> Remember your Wisdom



> See how the Universe responds to the Magick you create



> Awaken your inner witch, your shaman, your healer, your

inner

priestess


REMEMBER YOUR TRUTH

You have been hiding long enough.

In the nights where no light shines than that of yourself, you are invited to TRULY see and embrace your true essence.

Every month you will honour your journey.
And are invited to fully embrace your feelings...
Learn to work and recognise your gifts...
Dare to believe and ask for your wishes...
And understand the next step to take.

The Magick you'll start experiencing will be indescribable. Synchronicity, destined meanings, help from strangers and so much more beauty will open up once you remember the world IS Magick.

The Moon is the portal that can bring you the answers to all your questions.

Working with the Dark Moon Phase will highlight the Secrets you have been wanting to know.

They will help you transform and receive what you asked for.


Upcoming Circle:

This month you'll be working with the Point of RELEASE in the Dark Moon Healing Circle.

As you know there are 3 points in the Dark Moon Phase you can work with:
1. Release
2. Being and Contemplation
3. Renewal/Rebirth

This next Dark Moon I'd love to invite you to step into Deep Transformation with me while we remove Toxicity from your life and work with being able to see TRUTH.

You will open up to seeing what was (or is) 'toxic' to you and are invited to release with the Moon when you are ready for it.

This can be (but is not limited to:)

+ (Old) behaviours and responses
+ People and circumstances that are outdated
+ Material items relating to a time period
Would you like to deep heal and release what is no longer needed? And create

space

for what YOU DO WANT?
>>>YES! I'm in<<<

The Dark Moon Healing Circle is a monthly membership. We meet up once a month online to honour our journey.

> You shed layers that are no longer needed.
> You learn to hear your own wisdom
> And learn to call in the new in your life

Magick, the Goddess, Divination, Mystery and the Moon Phases are part of the path of Moon.


What to expect?

>> You will work with Themes in the Sky.

>> You'll get ancient Moon Knowledge and learn how to examine what works for you.

>> You open portals of the Sacred and connect with the Divine.

>> You will start to learn about YOUR specific path

>> You'll have the ability to connect with Ancient Universal Truths and energies.

BASIC MOON MEMBER BONUSES

As a Monthly Moon Member you will receive access to:

> New and extra workshops (September Bonus: Money Magick)

> Extra Moon and Astrology Knowledge
> Moon Library
> Moon Questions ( there will be a new video on them each month!)
> Journal sheets
> Magick Recipes
> $50 discount on 2-hour Akashic Healing Session

...and so much more.
Testimonials: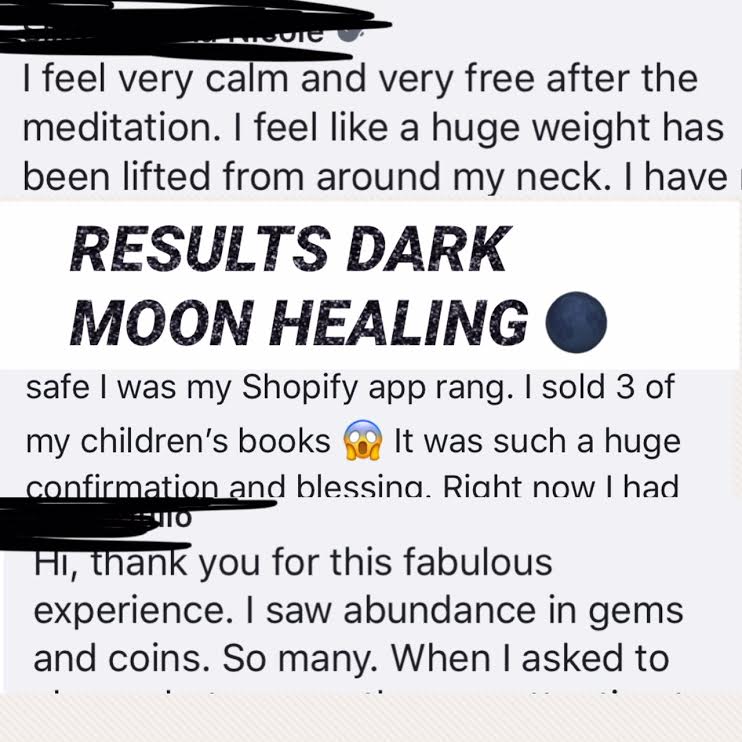 New to me?
I am a spiritual life coach, teacher and healer and I call myself a Dark Moon Healer, because I walked the full path of transformation represented by each cycle of the Moon. I hosted the first circle in my twenties and delighted to host it online for you!

My intention with this Moon Healing Circle and Academy is that every healing will be beneficial and will assist you on the level that you are ready for.

Let's Change Reality and Tap into the Sacred Space within together!The focus will be on the Cycle of the Moon and transformation within for the following reasons
:

> The Moon is your portal to the path within. If you don't know who you are and what you feel on the inside, then you will not find it outside of you.

> Understanding how the Moon works and seeing the cycle of life will help you so very much to understand everything in your life. When to let go, when to initiate, when to celebrate, why things are as they are, how to transition through phases, human nature and so much more.

> There will be one Monthly gathering. This will happen at Dark moon. That's because that is the time of Transformation. It's the time to shed the skin. It's the time that you can renew yourself. It is the time of healing and the most magical to walk between the worlds.

All healings provided will assist you with the month ahead. You will learn to work with three magnificent points of transformation of the DARK MOON PHASE: deep release, stillness and reflection and being with yourself, and initiate and choosing a direction in life that benefits you.

>>JOIN HERE for a Monthly Membership for $29 a Moon<<
You secure this price for as long as you are a member. Each month you'll receive more courses. Including Moon Energy in your second month of membership.

For now: Eclipse 101, Dark Moon Healing Circle, Full Moon Gratitude Meditation, Rebalance the Sun and Moon meditation.

>> Would you like to receive ALL THE BONUSES? And secure a monthly spot for as little as $25? And get invited to EXTRA calls like Moon Energy 2.0 (new recordings), 7 Days of Goddesses live call and so much more extra's.

>>>YES, PLEASE!<<<
(Or click here for Payment Plan)

This is the Founding Member Price that you will secure for as long as you remain a member.


Dark Moon Membership includes these courses